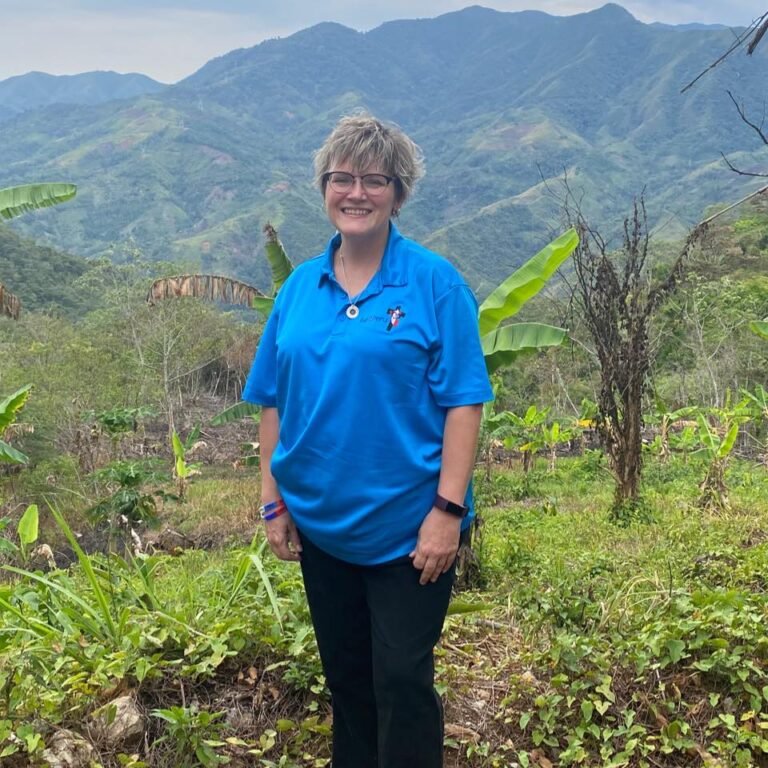 I'm a daughter, a mother, a friend, a sister, an aunt, a teacher, and many other things. I grew up in a Christian home, with Christian values, but I was on my way to Hell. I was a sinner. I was as lost as lost could be. Now, I hadn't done any horrible crimes or anything, but as the Bible says, "For all have sinned and fall short of the glory of God." I made a profession of faith when I was twelve, but I continued to have doubts.
I graduated from a Christian school, went off to Pensacola Christian College and majored in missions/Bible, and was still as lost as lost could be. I did all the right things. I got married, had children and taught them about Christ's love, but I still had my own doubts. And, I had pride. What would people think of me if they knew how long I'd pretended to be a Christian?
I went through a rough divorce in 2005 after being married for 10 years, and it nearly destroyed me. When my ex-husband got remarried almost right away, I was very hurt and angry. That hurt and anger turned to bitterness, and the bitterness took over my life. I still went to church, because it was the "right" thing to do, but I was mad at God. I had no relationship with Him at all. I didn't want to live any longer. I stood on the edge of a bridge, ready to jump, when a friend of mine called me and told me that God loved me, that she loved me and wanted me to live. I was still depressed and fought that for years.
My ex-husband eventually took my girls away from me, partly due to my unhealthy depression. And, although it was the most difficult time of my life, it was what the Lord used to show me that I needed a new identity. I needed Him. He showed me my depression and anger. He showed me how I'd been pretending for far too long. In November 2011, after 30 years of pretending, I saw who I truly was – a daughter who needed the Father's love. So, I asked Jesus to forgive my sins. I was God's daughter. I grabbed on to the hem of His garment and let Him love on me, like the woman in Mark 5 who knew that if she just touched the hem of His garment, she'd be made whole. Jesus looked at the woman and said, "Daughter, your faith has made you well. Go in peace, and be healed of your affliction." He healed me of my sins.
And, he began healing me of all my wrong "identities." He started with "unworthy." He showed me that I had worth in Him because I'm made in His image, Genesis 1:26-27. He showed me that I didn't have to be a failure, because I was a new creation in Him (2 Corinthians 5:17). But, the biggest thing he showed me was my need to forgive, to release myself from the captivity of unforgiveness. I was all tied up in anger and unforgiveness. Christ showed me that I could be free from it. It took some time. But it happened.
As I began to forgive my ex-husband, God began to heal the hurt inside me. He has healed the relationship with one of my daughters. God is faithful. He has now restored the relationship with my other daughter as well. We spent 4 days together in May 2019, visiting with my parents in FL.
On my first mission trip to Peru in the summer of 2014, the Lord made it clear that He was opening the door for me to be involved with ministry there. You see, for as long as I can remember, I have had a heart toward missions. I have gone on a couple of mission trips over the years (Ivory Coast and Romania), but I knew that my mission field was somewhere else. During my older daughter's junior year in high school (2014) my daughter and I discussed the possibility of going on a mission trip together. I contacted a friend who grew up as a missionary kid in Peru about the possibility of going with her and through prayer the Lord confirmed that this is where we should go. That summer, we joined with several churches that were serving through Hope for Women Ministries by sharing their testimonies and teaching at women's conferences.  I absolutely fell in love with the people, the country, the need, the "all" of Peru and firmly believe that the Lord has placed a burden on my heart to return. Last summer I returned to Peru and again served the women, teens, and children in several cities in Peru. God affirmed the call on my life, specifically to the Chanchamayo Province in Peru (my "home base" will be in San Ramón).
I now teach other hurting women about the love of the Father. In Matthew 9, there was a women who needed her Father's touch to make her well. She knew if she could just touch the hem of His garment, she would be made whole. When Jesus felt her touch Him, He turned to her and said, "Daughter, your faith has made you whole." No other place does Jesus call a woman anything but her name or "woman." Here, He said, "Daughter," a loving term.
The Lord has called me to serve in San Ramón, Peru. On July 4, 2018, I left Mississippi and moved to Peru. I am home.
The "motto" for my ministry, if you will, is "I was a mess…. But God…. Sharing His healing with hurting women." Women are hurting. They need to know the love of Christ heals. My heart is to help other women experience the healing that can ONLY come from Christ. They need to know, "When I feel helpless, still I'm not hopeless; when I feel lonely, I'm never alone. When I am broken, I don't fall to pieces; when I am the weakest, In Him I am strong."
I am sent from my home church, Country Woods Baptist Church, and am an affiliate missionary with Light for Living Worldwide Ministries. If you or your church is interested in supporting my ministry, please contact me here or at my email address, stephanie@hrt4Peru.org. You can also give by going to Light for Living at give.MinistryLinQ.com/LightForLiving.